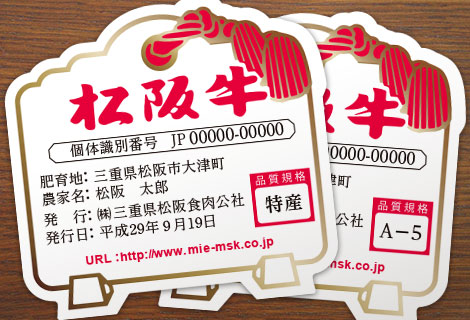 At the meat corporation, Matsusaka beef sticker, Matsusaka beef certificate is issued according to the request of the meat trader.
By searching "Individual identification number search" on the meat public corporation web site for the individual identification number described in each one, it is possible for anyone to check detailed information such as the date of birth, the pedigree, the fattening farmer and the shipping date.


Late November that winter visit is approaching, Matsusaka beef cattle contest will be held.
The contest began as the 1st in 1949, and as the number of times increased, the farmer's fattening technology improved and excellent beef cattle were exhibited, and it has developed excitement.
The qualification examination of the exhibition cow becomes strict year by year, only the cow catching the qualifying session will be exhibited at the contest.
Matsusaka beef raises a high price every year at a bid to be held in conjunction, and has surely gained evaluation.
At the 53rd contest held on November 28, 2002, the "Yoshitoyo" of the Excellence Award 1st was traded with the highest value of 50 million yen ever.
As a result, we again appealed the name of Matsusaka beef, the best in Japan "art of meat" nationwide.


Until the 1950s, it was a sight that was commonly seen in rural areas that cattle cries could be heard at eaves.
At that time, the farmer used the cow for agricultural purposes (work cow), cuddled like the family, carefully bredding.
It is said that in the Matsusaka district, they prefer to buy a cow trained in Kishu (Wakayama Prefecture) born in Tajima (Hyogo prefecture), which was excellent as a work cow since ancient times.
Cows are used for agriculture for 3 or 4 years and then rested for about 1 year, they are finished in a fine stuff called "Futo-ushi". It was on sale as a quality beef cattle at the time of the Russo-Japanese War.
After that, cattle in the Matsusaka district gradually raise their name by farmers and stakeholders' efforts. In 1935, it won the highest honor at "National Meat Animal Exhibition Expo" held in Shibaura Market in Tokyo, and It is said that nationwide spreading fame as the finest beef cattle "Matsusaka beef".